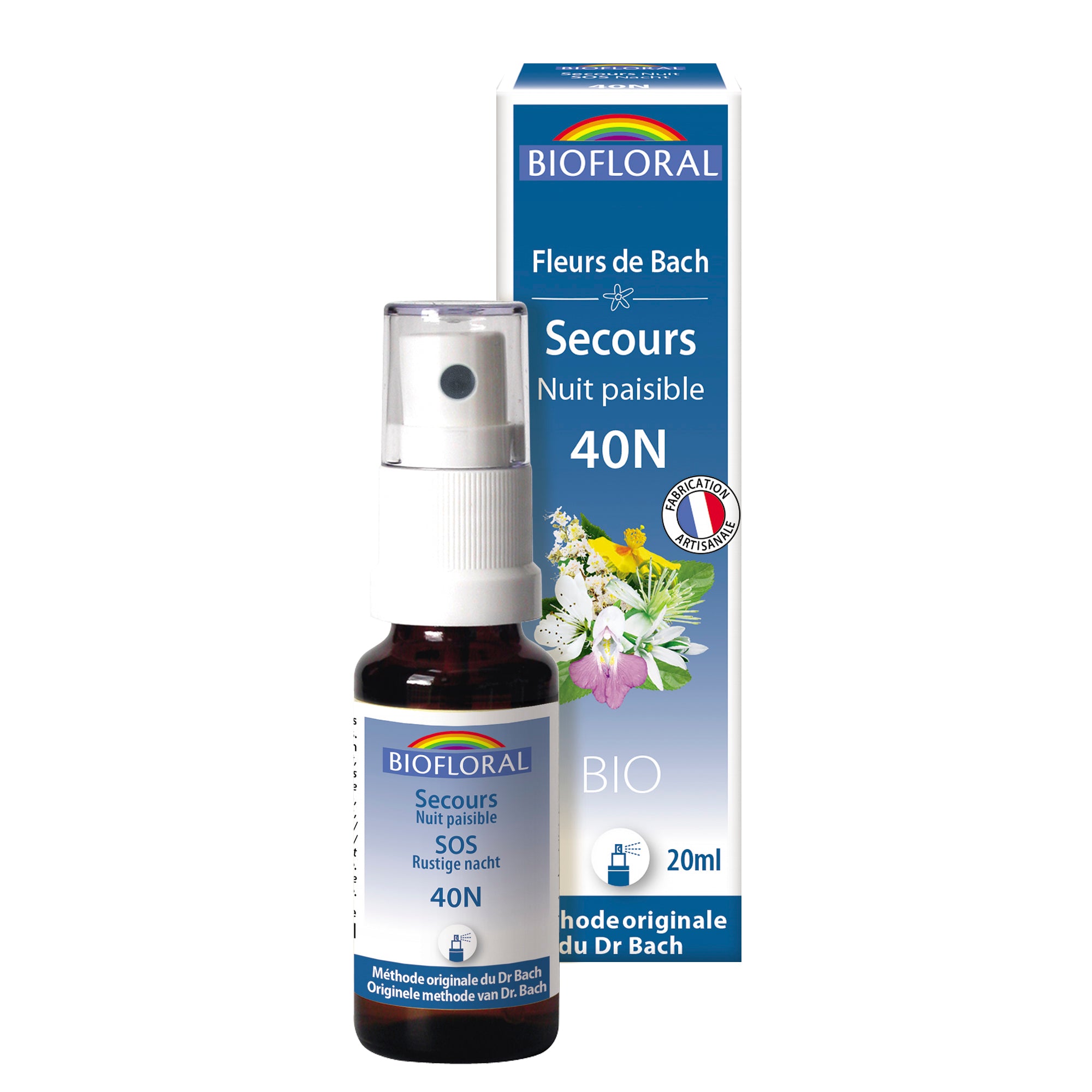 Flowers of Bach Rescue complex - Peaceful night - spray - Bio
Practical and discreet, always close at hand, the Secours Nuit Paisible spray complex makes it possible to effectively manage crises in all circumstances and thus quickly regain serenity. Ideal for promoting a deep and relaxed sleep, by soothing the mind, tensions and tensions.
Livraison offerte à partir de 35 €*
Description détaillée

Thanks to its original composition combining the 5 Bach Flowers of the Secours complex and the white chestnut tree, the Secours Nuit Paisible complex is ideal for evacuating negative emotions and thoughts that prevent you from resting and promotes letting go, for a sleep deep and relaxed.
Composition

Ingrédients : Cognac (27% vol.)**, préparation aux Fleurs de Bach* : Rock Rose (Helianthemum nummularium), Impatiens (Impatiens glandulifera), Clematis (Clematis vitalba), Cherry Plum (Prunus cerasifera), Star of Bethlehem (Ornithogalum umbellatum), White Chestnut (Aesculus hippocastanum) à 1/240e selon la méthode originale du Dr Bach.
*Ingrédients issus de l'agriculture biologique et **biodynamique.
Mode d'utilisation

"2 SPRAYS Under the tongue or in a glass of water.
4X / DAY For 1 to 4 weeks.
If needed, 1 take every 1/4 hour. "
Précautions d'usage

Do not exceed the recommended dose. Does not replace a varied and balanced diet or a healthy lifestyle. Keep out of the reach of young children.

Adutes




This product has no reviews yet.
*Livraison offerte dès 35 € d'achats en point relais et dès 50 € d'achats à domicile.